Automated A/B testing
With the output option "A/B testing" an A/B test can be created and automatically executed in Ternair Campaign.
See A/B testing for more details.
Brand styling for templates (e-mail, snippets, user-content)
Support for the use of corporate identity / brand added for templates, snippets and user-content.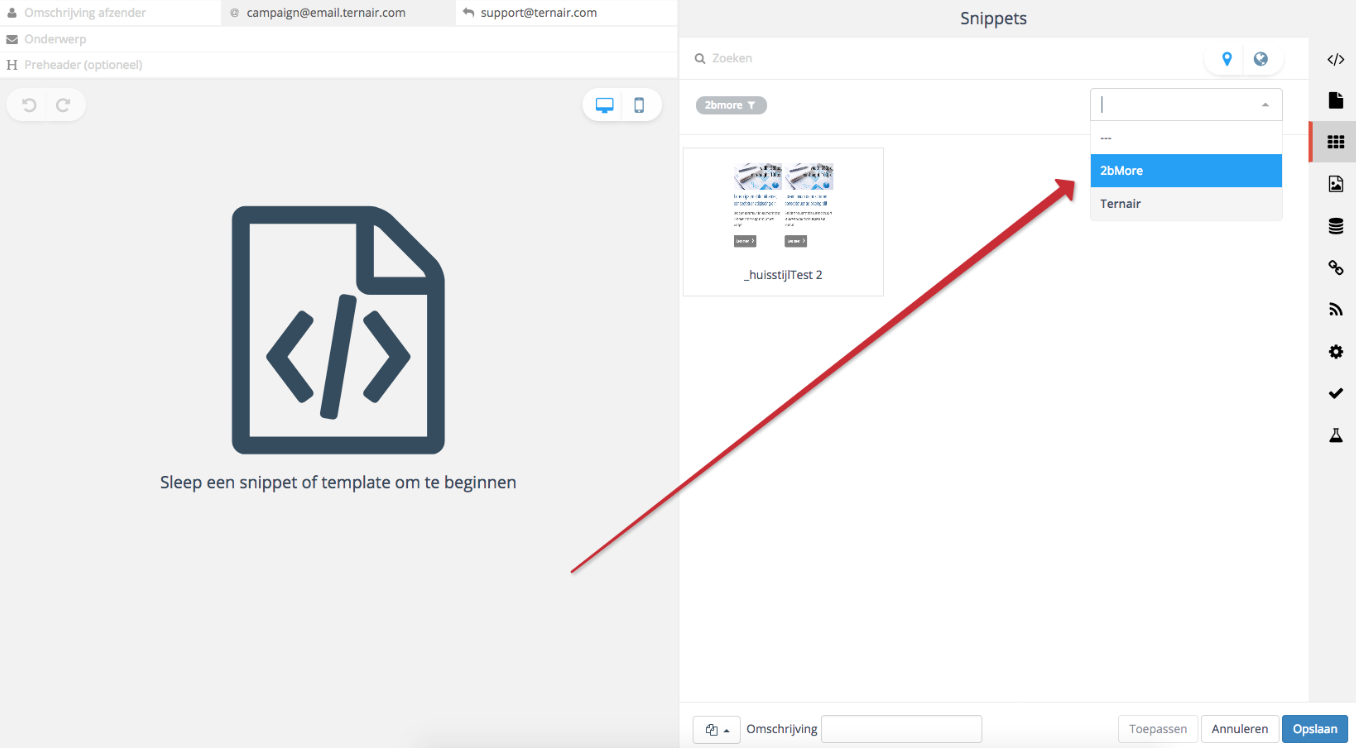 See Global settings for more details. 
Template editor (e-mail and landing page)
The design for building templates (e-mail and landing pages) is adapted to the design of the e-mail block. In addition, functionality has been added to build templates using snippets.
Tagging for templates, snippets and user-content
Filter e-mail templates, snippets and user-content based on tags.

RSS edit screen
RSS feeds manually added to an e-mail block can be edited and deleted.
This does not apply to RSS feeds from templates.
Re-organized toolbox
The layout of the toolbox in Ternair Campaign is re-organized.
Improvement e-mail personalisation and validation
Improved performance for personalizing e-mails and validation is added.
Additional e-mail statistics
Donut containing "Denied" is added to the e-mail statistics. This donut displays the number of e-mails that have not been send.
The list of clients in the e-mail statistics is extended.
Applying tracker wildcards for RSS merge on execute messages in e-mail
When executing an 'RSS merge on execute' block, tracker wildcards are automatically applied to these items when sending out the e-mail.
HTML highlighting in e-mail editor
When editing an e-mail, the selected part on the left side of the screen is highlighted in the HTML editor on the right of the screen (yellow highlight).
Initial tab e-mail editor
A default can be specified for the default tab that is displayed in the e-mail editor.
Changes and bug fixes
Check email field for test transmission

The validation of the e-mail address in the 'test' tab in the e-mail editor is modified.
Optimize images

Images added in an e-mail are saved in a maximum size of 3200px x 3200px, while maintaining the image ratio.
Select HTML in read-only view

Added functionality for selecting, copying, searching HTML in read-only view of the e-mail editor