How to use the channel Web Push Notifications?
What are Web Push Notifications?
Also called: Browser Push, or Push Messages
Notifications from a website
Sent via provider (i.e. Ternair)
Shown to recipients through their browser
opt-in channel: "www.url.nl wants the following: …" Allow / Block"
Appearance varies by browser
What can you achieve?
extra channel to quickly build up opt-in reach
engagement on the website, using hot news, special offerings
more and more personalization possibilities
Start simple, expand
It's a push channel and opt-in: provide relevant and well-timed notifications
Results beyond expectations
Optin appr. 50%, CTR 5-8% (obviously dependent on market and notifications)
What is a good Web Push Notification?
Determine the objective for the channel. Start with ONE.

Create a content plan, including tests
Install Web Push channel in Ternair and on the website.
See tutorial next pages
Measure statistics per notification and adjust content accordingly
Notifications type, sent, recieved, clicked, day of the week, hour of the day
How do I set it up? (tutorial)
Set up Web Push in Ternair
Open Global settings in top right corner via the gear icon in Campaign
Open Domains
Open Web Push
1. Add website (sender)
Click button Add Sender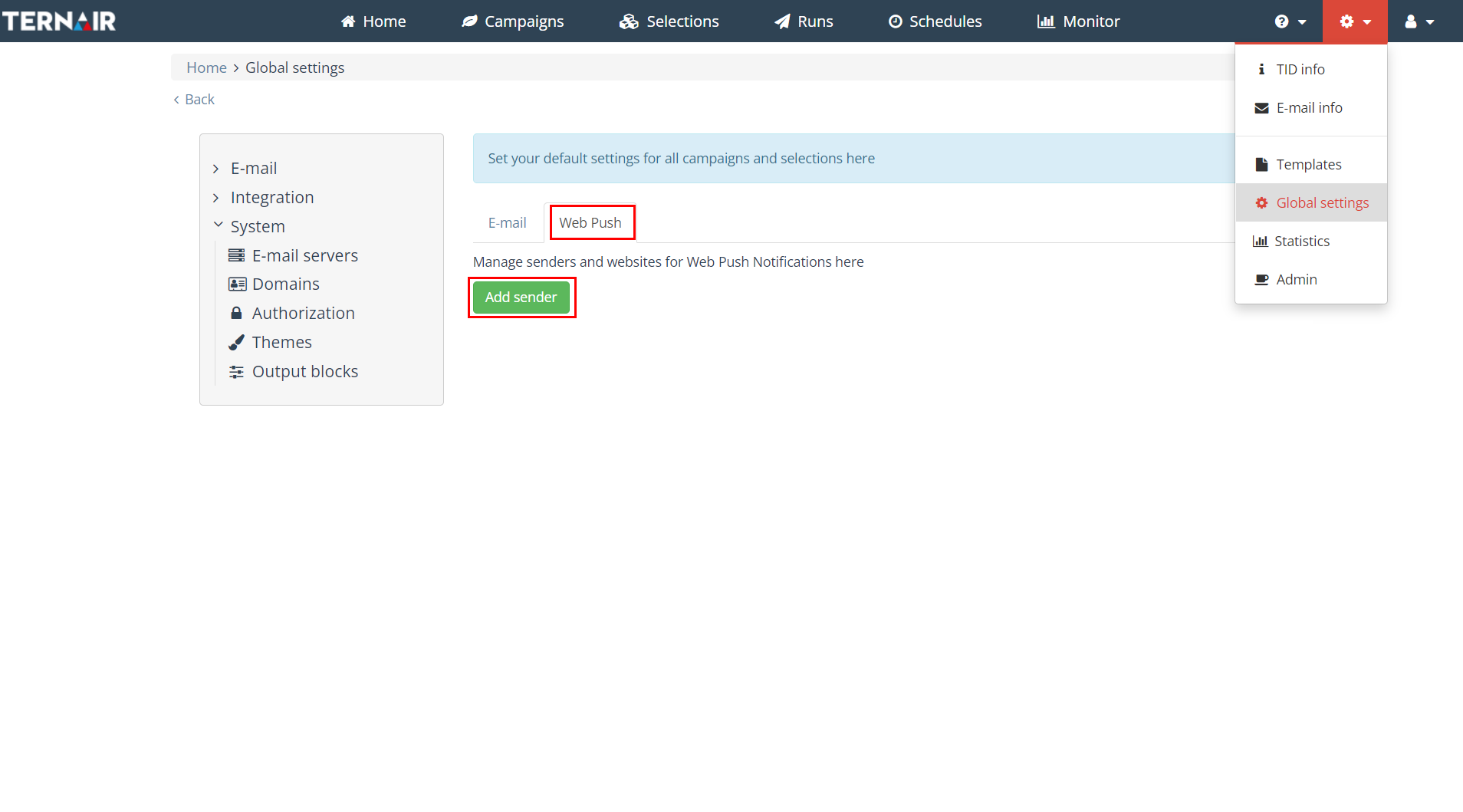 Enter name and full url of the website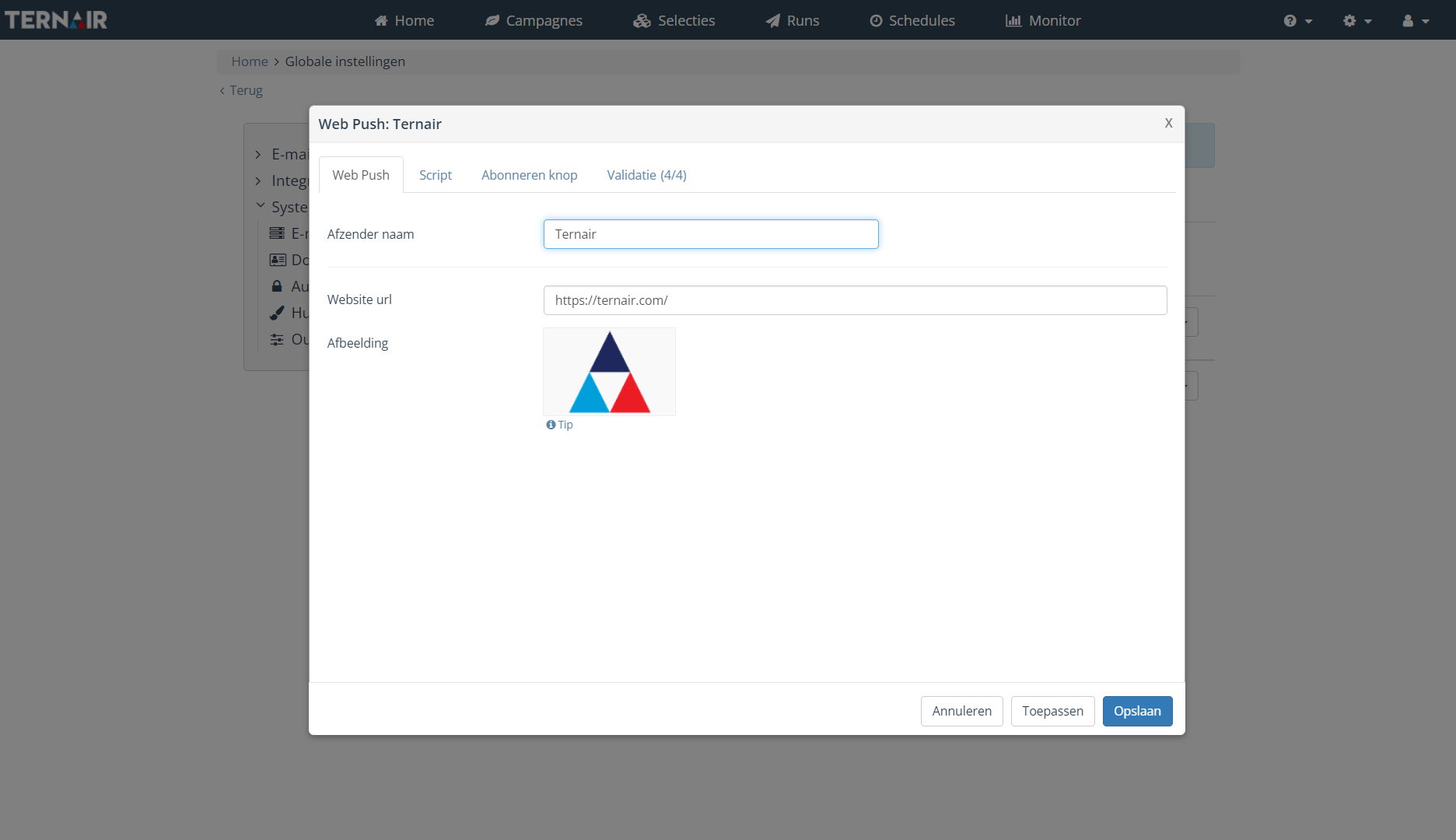 2. Make your website suitable
Click on tab Script
Download file
Add code to your website*
Add code to 'head' of the website*
*You may need your website administrator for this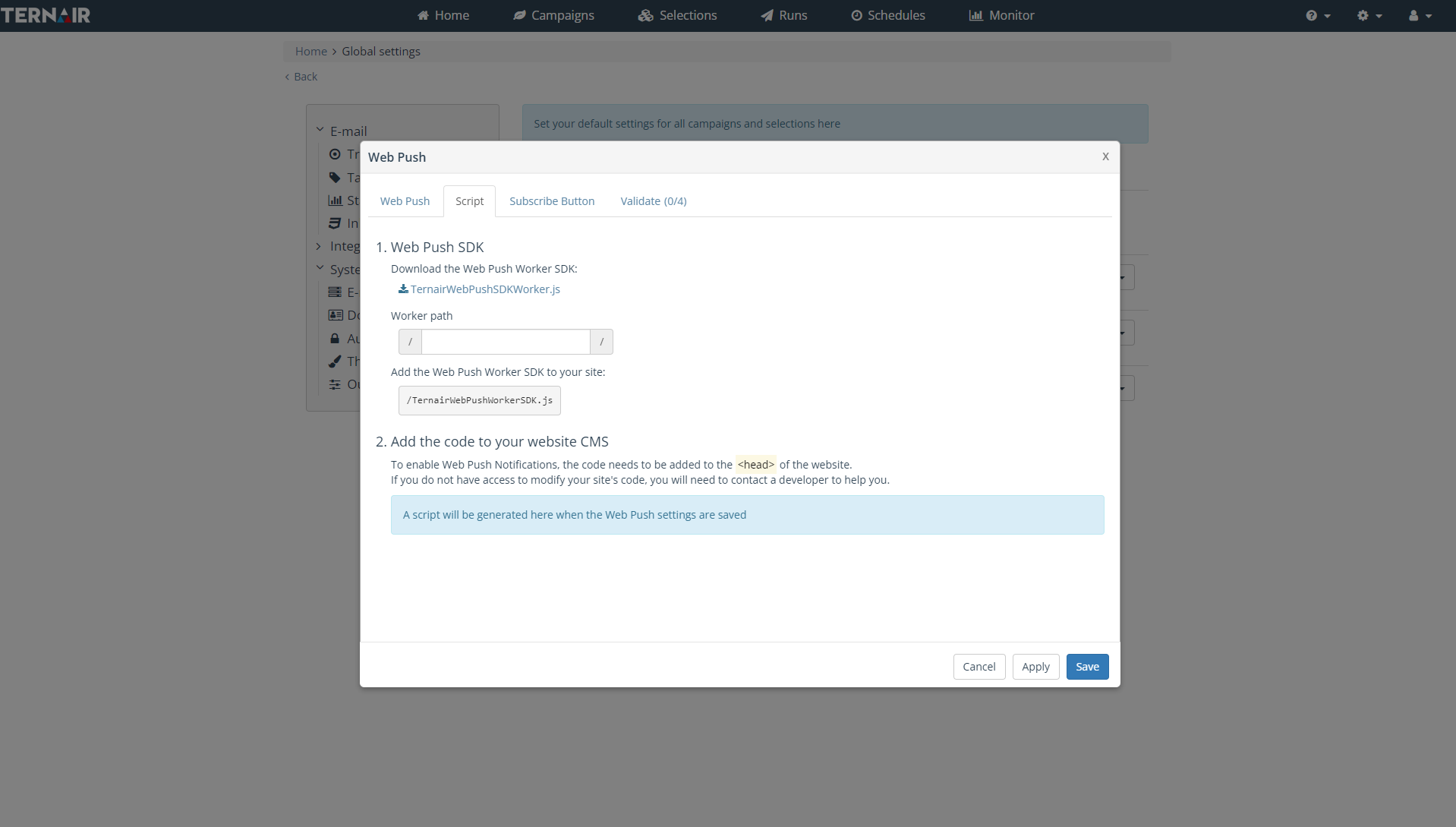 3. Opt-in settings
Set when opt-in message should appear.
4. Validate settings
Send message
1. Select your suscribers
Start selection
In the Selection block, select the source Ternair and choose Web Push Subscribers
Select the website you are creating a post for
Connect Output Block Web Push
2. Compose your message 
Compose your message in the editor
Map your fields
Set maximum delivery period in Settings menu
Creating contacts for the records receiving the Web push (optional)
Validating Web push content
Test message
N.B. Allow notifications to enable testing
3. Activate Web Push
Connect a Schedule block and set your send times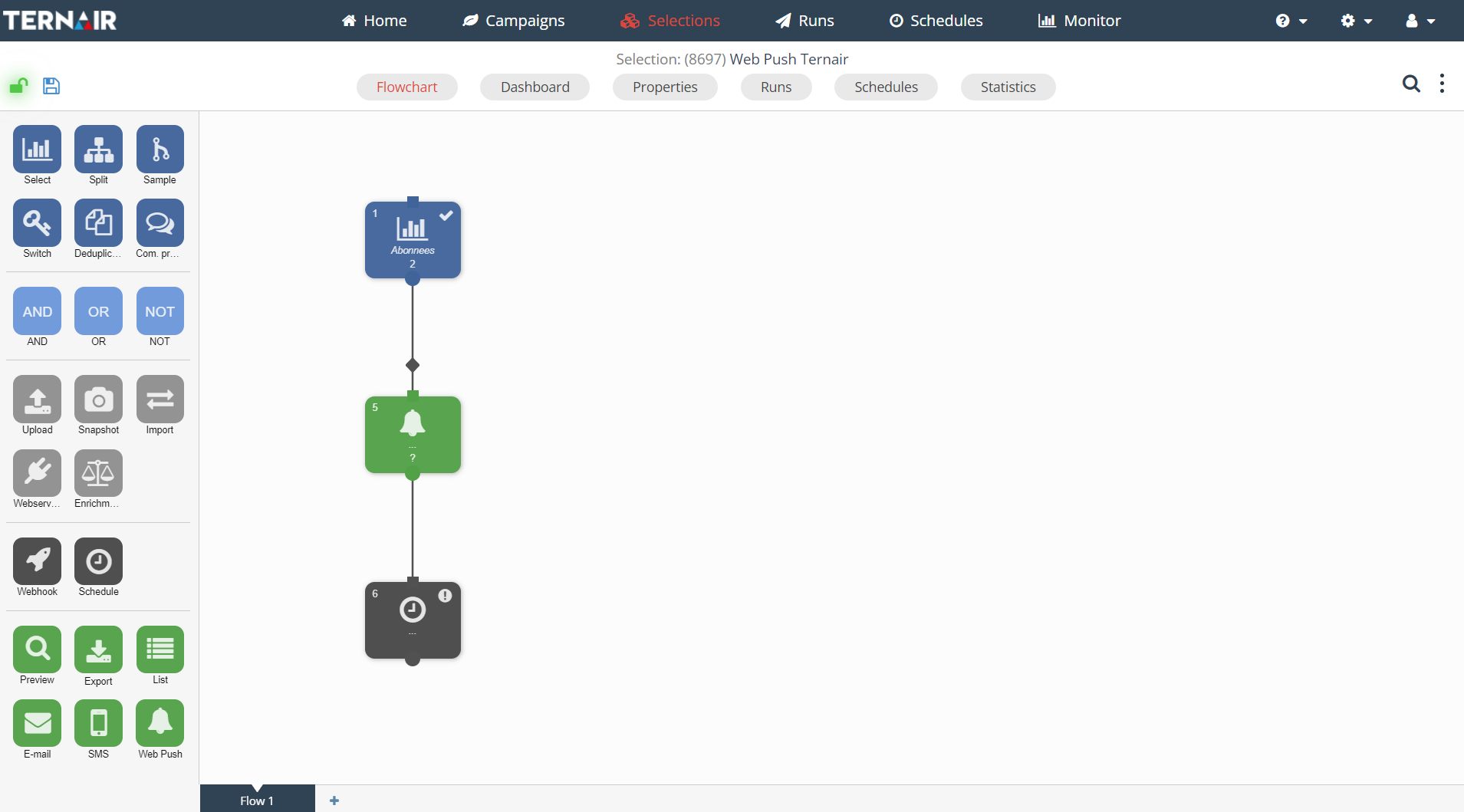 4. Statistics
The statistics screen provides an (graphic) overview of the statistics for a Web push.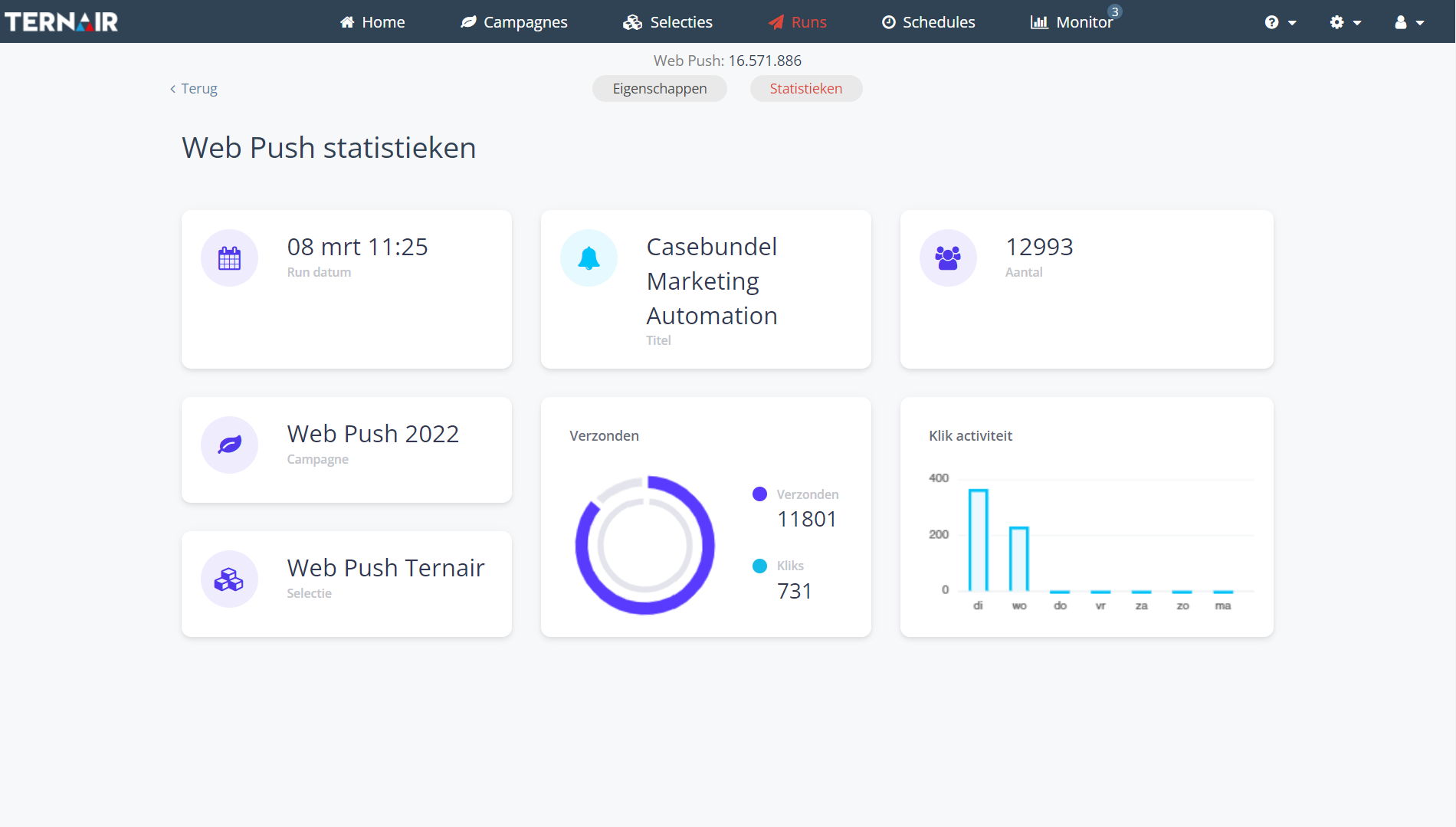 FAQ
Where does Web push work?
Why am I not getting a notification request?
Make sure Windows is not in Focus mode:
Make sure the browser is not blocking notifications: