Column types upload file
When uploading an Excel file, the option Use column types from file is shown.
Select this option in order to use the column (data) types from the uploaded file in Ternair Campaign.
The column types number, currency, date and other (text) are supported. Depending upon the column type the corresponding operators are available .
See Upload for further details.
Detailed statistics for denied e-mails
In the e-mail statistics the denied e-mails are categorized into four categories: Invalid, Empty, Blacklist and Suppression (new).
In the e-mail info overview more detailed bounce information is available.

See Email info for more details.
E-mail statistics personalized hyperlinks
E-mail statistics for personalized hyperlinks are available in the Hyperlinks & heat map overview.
Personalized hyperlinks are displayed as sub-links under the main (unpersonalized) hyperlink.
Dynamic RSS tags
Support for the use of RSS content within (the attributes of) HTML elements.
For example: using RSS content as a URL parameter or replacing/prepending/appending content with data from an RSS feed.
See Dynamic RSS tags for examples and further details.
RSS description
RSS drop zones in the e-mail editor now display the name of the e-mail snippet that is used (in stead of the fixed value Drop RSS messages here).

Redesign global settings screen
Redesign of the global settings screen navigation menu, grouping similar settings together into logical groups.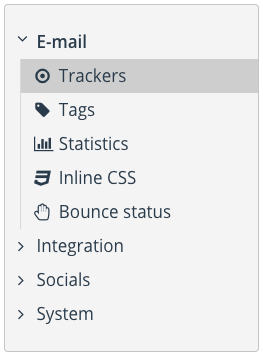 E-mail server configuration
E-mail servers can now be configured in the Global Settings (under System).
The configured e-mail servers can than be connected to the corresponding e-mail domain(s).
See e-mail servers for more information.
Changes and bug fixes
E-mail editor
Improved snippet dragging / placement
Improved navigation when using the arrow symbol to select elements
Robustness editor toolbar
Unique icons for all options in the editor toolbar
Tags & trackers

Maximum length tag: 512 characters
Maximum length manual tracker query: 256 characters

 RSS

fix for displaying dates in RSS items
improved robustness when using RSS feeds (Firefox)
Flowchart
Robustness NOT-block settings when copying blocks
Robustness aggregations in snapshot block
Styling
Flowchart block styling
Notification toolbar styling
Other
Excluding hyperlinks from e-mail statistics
Improved editing & validation in landing page and e-mail template editor
Several fixes for IE11 users