Images and links served from your own (custom) domain
You can add a custom content domain in the global settings.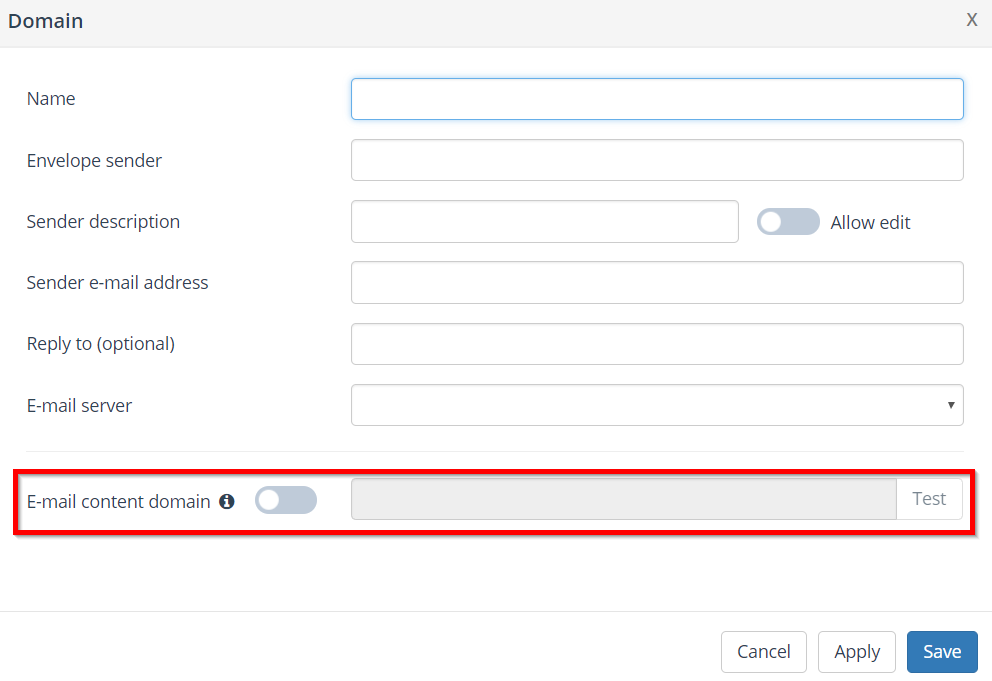 The custom domain must be configured to refer to Ternair.
The interface will inform you where the custom domain needs to refer to.
N.B. The online viewer, landing pages and data capture forms are excluded.
See Domains for more details.
Using Ternair coding as selection criteria
It is possible to use variables in the selection criteria.
This functionality is available in the internal (Ternair) data sources:
– E-mail statistics (Ternair)
– Campaign information (Ternair)
Direct Dynamic Content / Personalized Content
Additional sources, besides regular RSS feeds, can be used to personalize content in the email block.
When using a direct dynamic content feed an additional mapping field will appear on the Mapping tab of the email block.
This field needs to be mapped in order to retrieve the personalized content from the feed.
The direct content has a definition containing the source of the personalized content and can be used with ternair-rss.
See HTML editor for more details.
Changes and bug fixes
Various e-mail block improvements
Improved robustness of the HTML tab.
Improved robustness sending email.
The document outline will now be hidden when there are no ternair elements present in the email content.
Improved email block run status handling.
RSS
Improved robustness of the RSS tab.
Improved handling of emails containing personalized RSS URLs.
Other blocks
Fixed issue with 'IN' operator when using snapshot aggregation criteria.
Various small changes to improve the robustness of schedule, switch and web service block.
General
Fixed issues reloading temporary selections.
Improved support for legacy selection templates.
Personalized variables can now be used in landing page templates.